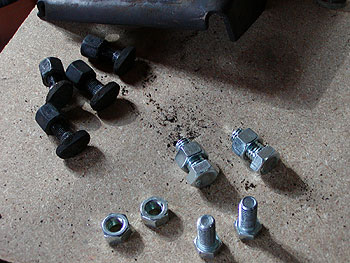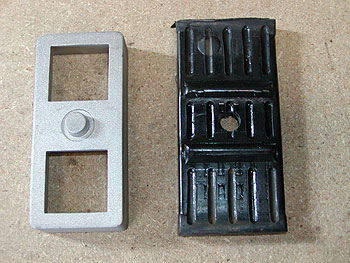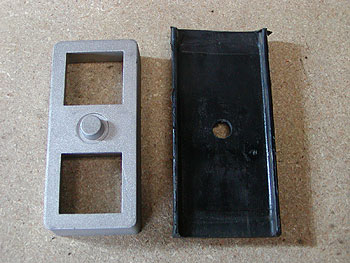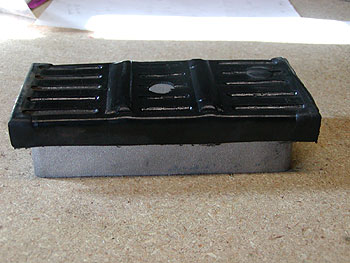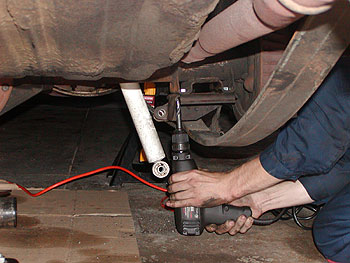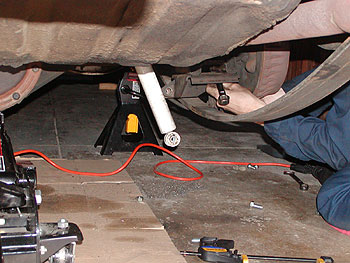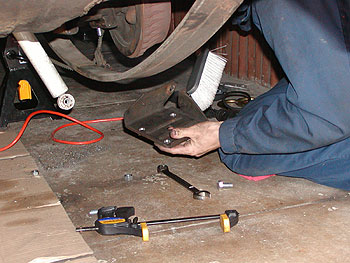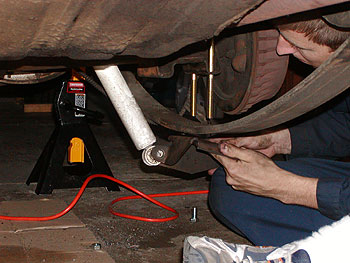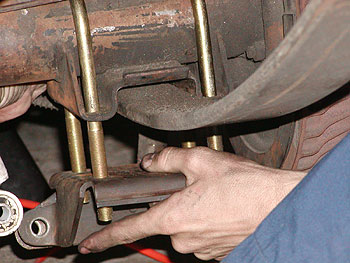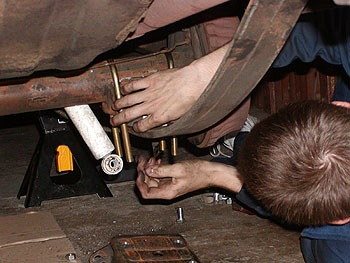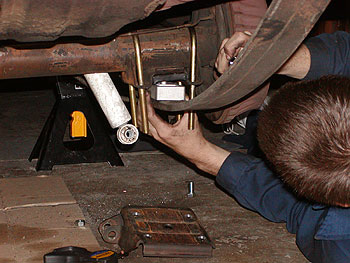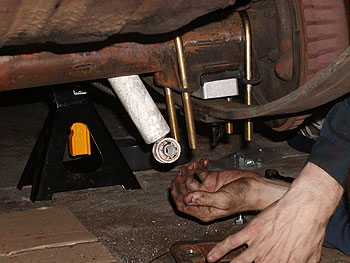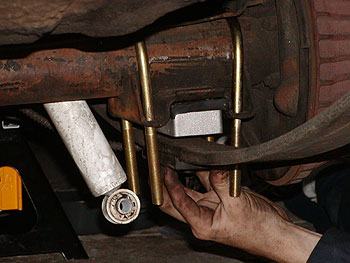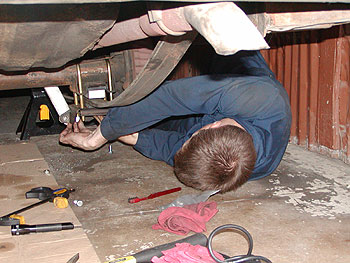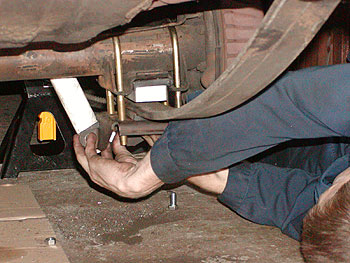 Thursday, August 02, 2001
After drilling the driver's side spring perches yesterday I got an idea about how to possibly do it better on the passenger side. That's what I worked on today.

First, I got the car up a little higher in the air, so I could drill from the bottom. I don't know if this is better, but at least I didn't have interference from the axle tube.
I think the best way would be to remove the axle housing from the car to drill, but I didn't want to go through all the work of draining the brake fluid and disconnecting the driveshaft and leaf springs.

Second, I clamped the bottom plate to the spring perch welded to the axle housing using some 7/16" bolts and nuts. This way I could drill both plates at the same time, as opposed to separately like I tried on the driver's side. I put bolts in 3 of the holes, and drilled the other one. Then, I put a 1/2" bolt and nut in the hole I drilled, tightened it up, and removed a different 7/16" bolt. I worked my way around the four holes like this. I think it helped align the holes with one another much better, and when it came time to install the u-bolts, the lower plate slid on much easier than on the driver's side.

I am still unsure whether the lowering block is going to stay in place. You can see in the photos the little bumps on the spring pad that are designed to locate the pad, and also you can see the hole I drilled for the pin of the lowering block to fit in. I will be able to monitor if the lowering block is moving around, so it is not bothering me too much.

What I am still worried a little about is whether the pin will contact the bottom of the axle housing and cause the axle to pivot on the pin. This would be really bad, and I don't really know how I will tell if it is happening. I still have to borrow a deep 3/4" socket before I can torque the nuts on the u-bolts.

Anyhow, other than the final torque setting on the u-bolts, everything is bolted back up under the car including spring plates, the shocks, and emergency brake cable hangers. The rear of the wagon definitely looks lower. I will try to get it outside of the garage tomorrow to get a picture of it.